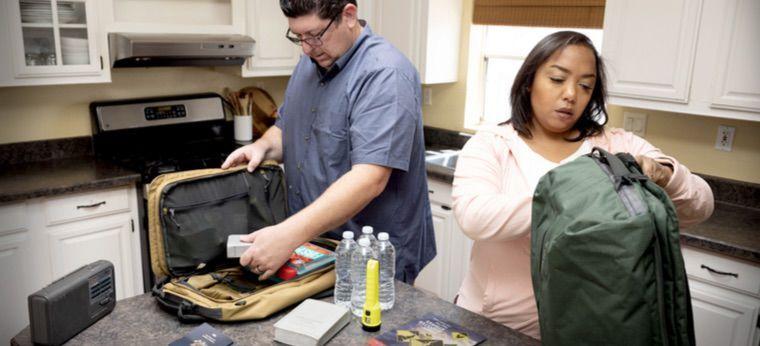 Don't think you need an emergency kit? Think again say families that needed one when the fires in southern Gila County bore down on Globe, Miami and surrounding communities.
Flashlights, bottled water, a first aid kit, and medication line the Haggarts'Äô kitchen counter. The family isn'Äôt going camping 'ÄĒ they'Äôre preparing for disaster by putting together a 'Äúgo bag.'ÄĚ
John and Dana Haggart never used to worry about natural disasters in Globe. But after the record-breaking 2020 wildfire season in the West, they don't want to leave anything to chance for 2021, as extreme weather patterns continue to escalate.
Experts warn that extreme and abnormal weather events are intensifying. Arizona's dry and hot climate makes wildfire a specific concern. The indelible memory of the 2013 Yarnell Hill Fire and the 19 men who died fighting it shows how quickly wildfires can spiral out of control. The more recent Spur Fire in Bagdad, Ariz., was a stark reminder of how grass and gusting winds spread the fire quickly, forcing families out of their home with little warning.
'ÄúIt'Äôs important to prepare a go bag,'ÄĚ says John Haggart, as the couple recounts their experience of early June when the order to evacuate was received. Flames that had been some 30 miles away rapidly grew and suddenly threatened their community.
'ÄúWe didn'Äôt think we were going to be affected,'ÄĚ said Dana. 'ÄúWe were able to get our go bags and be out the door within 10 minutes of that 'Äėgo'Äô order.'ÄĚ
The Haggarts credited the disaster-preparedness help they received as Jehovah's Witnesses, both through periodic reminders at their congregation meetings and from tips for putting together go bags on the organization's website, www.jw.org.
'ÄúLife is precious, so we encourage all to heed the Bible'Äôs advice to take practical steps to protect ourselves from danger,'ÄĚ said Robert Hendriks III, spokesman for Jehovah'Äôs Witnesses in the United States.
'ÄúHaving a personal preparedness plan increases your chances of staying safe,'ÄĚ according to a training program from the Columbia University'Äôs National Center for Disaster Preparedness. Having supplies ready to go, it says, is one of the steps that provides 'Äúresilience to all types of emergencies.'ÄĚ
Disaster-preparedness suggestions and tips for putting together a 'Äúgo bag'ÄĚ are available from FEMA at ready.gov and from Jehovah'Äôs Witnesses at https://bit.ly/3h631ML.
Source: https://www.paysonroundup.com/news/local/get-go-bags-ready-before-emergency/article_e24a11d7-a7d9-58a9-b700-c5f992f197f8.html