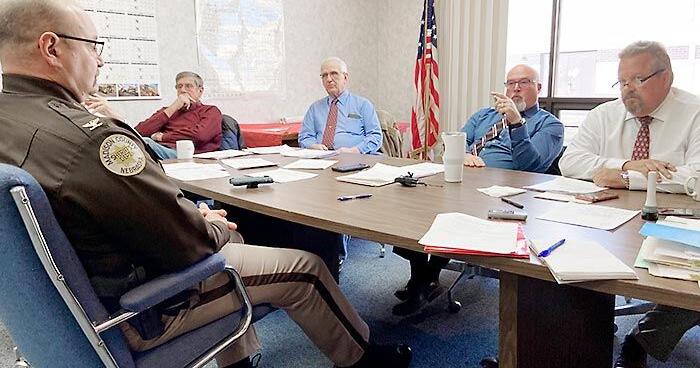 MADISON — Two major accidents in three days this week, including one fatality, served as a reminder to Madison County Sheriff Todd Volk of the need to improve communications with the county's towns and emergency officials.
On Wednesday, Volk spoke to the Madison County Board of Commissioners about the need to enhance radios for the police and fire departments outside of Norfolk. Both Madison County and the City of Norfolk completed radio upgrades in recent years.
Volk, along with Bobbi Risor, Region 11 Emergency manager, and representatives of the Battle Creek and Madison fire departments discussed the need to upgrade radios countywide, which has been discussed for years.
Volk said he would like to "get the ball rolling now," with hopes the radios can be purchased in the next fiscal year.
One scenario that has been discussed would be to have the county purchase the radios, with the towns responsible for the maintenance and installation. With the recent accidents, it was a reminder that the "radio traffic is terrible," Volk said.
"I should say, their radios are hit or miss on a couple of them," he said. "It's their age. They're all computers now as we've been down this road before with at least two of you (commissioners) before — when I brought up the radios for law enforcement."
Commissioners asked about the cost.
Volk said it isn't known. The towns won't need as extensive of a radio as the sheriff's deputies have. Some of the town representatives said there are times now when they are unable to talk to the new dispatch center.
Troy Uhlir, county board chairman, said there should be funds available, thanks in part to federal funds.
"We're trying to make them go as far as we can with a lot of different things," Uhlir said.
The next step will be to get a bid put together and figuring out how much the towns will have to handle to pay for the installation, training and maintenance, he said.
As discussions continued, it was decided that some departments might not need to replace all their radios. Each department will have to decide how many radios it will need and let Volk or the county know.
It also was suggested to have a representative from each of the departments attend a future meeting with the county board, knowing how many radio mobile units and handheld units, as well as future needs, are needed.
Volk said there likely will be another expense as well, putting up at least one more tower for enhanced coverage. The county has a tower near Norfolk and another that it rents from a radio station on Highway 32.
"It depends on the new technology radios on what we are going to need for towers," Volk said. "And those are maintained by the county and some by emergency management, too."
Once all the radio units are totaled, the county will put a bid together. Plans will be then to order from the lowest bid, with the funds likely spent in the next fiscal year after June 30.
No formal action was taken Wednesday, with the topic tentatively agreed upon to be discussed again on Tuesday, March 1.
The Madison County Board of Commissioners met Wednesday.
Members present: Chairman Troy Uhlir, Ron Schmidt and Eric Stinson.
Others in attendance: Anne Pruss, county clerk; Dick Johnson, roads superintendent; Sheriff Todd Volk, County Attorney Joe Smith, 10 from the public and three reporters.
Meeting lasted: Two hours, nine minutes.
— Recited the Pledge of Allegiance and had a moment of silence. Noted the open meetings law is posted and followed.
— Acknowledged receipt of the continuation certificate for public official bond of Michael Johnson as president of Sanitary and Improvement District 13.
— Approved the purchase of a 2012 Volvo Truck from Thunder Valley Truck and Trailer of Wisner for $49,000 for Road District 2.
— Authorized the county board chairman to execute the certification of the semiannual report for Community Development Block Grant (CDBG) Program Income.
— Authorized advertising for bids for a new phone system for all county offices.
— Authorized advertising for bids for new HVAC system for the Madison County Courthouse.
— Approved the following agreements for Project Battle Creek Southwest, which is the bridge replacement. More land was needed than originally anticipated: Connie M. Smith-Henn for a permanent easement at a cost of $1,800 and a temporary easement at a cost of $70; Dwayne and Mary Erickson for permanent easement at a cost of $1,000 and a temporary easement at a cost of $70; and Thelma J. Barry Trust for a permanent easement at a cost of $3,500 and a temporary easement at a cost of $80.
— Canceled a check payable to the Madison County treasurer.
— Delayed final action for funding to the Madison County Historical Society until March 1.
— Reviewed written reports and processed claims.
Source: https://norfolkdailynews.com/news/county-agrees-to-help-towns-upgrade-emergency-radios/article_fdd6bf4a-7a04-11ec-abe4-7fa4248f3cab.html