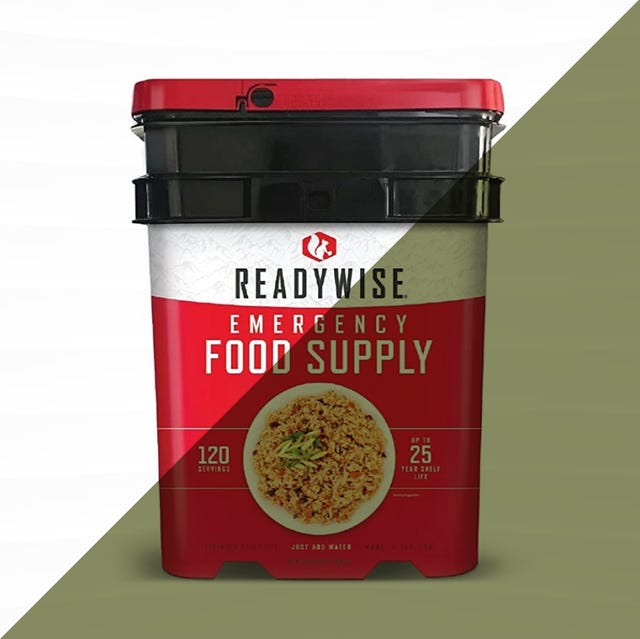 Staff, Courtesy of ReadyWise
September is National Preparedness Month, so if you've been thinking about stocking up on emergency food kits and other supplies, now is a great time to do it. Making the investment couldn't be more timely, with the floods, droughts, and wildfires we've witnessed this past summer alone due to global warming.
Extreme weather is unfortunately our reality, so preparing for the worst is the best you can do for yourself and your loved ones. Buying emergency food kits is the logical place to start, and luckily, there are established companies out there with tons of experience creating complete meals that will nourish you in the event of a disaster. Read on for our top recommendations, plus advice on essentials to consider before you shop.
What to Consider
The first question that's bound to come to mind is the amount of food to have on hand. The answer varies depending on the number of people it's for and the amount of storage space you're willing to dedicate to emergency food and other supplies. Start with taking stock of everyone in your family or group and their recommended daily caloric intake. You may wish to talk to your doctor or pediatrician in advance of buying to get advice on nutritional needs for each individuals' overall health.
Once you have that basic information down, finding the kit that's best for you boils down to individual tastes, along with dietary restrictions and preferences. Emergency kits generally include calorically dense comfort food — things like mac and cheese, hearty soups and casseroles, and chili. Some, but not all, include breakfast, typically cereal or granola, along with snacks, drinks, and desert. Most companies offer sides as part of their product lines, so you can purchase things like fruits and veggies separately to add to main meals.
To prepare meals, all of the options we cover require water. There are also emergency ration bars and packs of survival tabs that you may wish to include in your stash. Plus, you can also buy emergency survival water pouches to have on hand. The shelf life of emergency kits vary, with the majority of companies advertising up to 20 to 30 years, though some can be 10 years or less.
It's generally determined by how the food is packaged—anything freeze-dried will last longer than ready-to-eat meals—plus if there are preservatives added. In terms of storage, kits are best kept in cool, dry, dark places, with room temperatures between roughly 55 degrees and 70 degrees Fahrenheit.
How We Chose
Every emergency food kit we write about below has an average of four stars or more, and come from major large top brands, including ReadyWise, Mountain House, and Augason Farms, and some smaller producers that offer high-quality boxes geared to specials diets. Our selection includes options across multiple price points, including ones that are budget-friendly, plus we feature kits that come in a range of sizes.
1
Best Overall Value
Ultimate Preparedness Emergency Food Kit
ReadyWise
amazon.com
$99.78
Key Specs
Number of Servings: 124
Shelf Life: 25 years 
Weight: 13.4 pounds 
Dimensions: 12.5 x 12.3 x 12.2 inches
ReadyWise is a well-established company known for its value-packed food kits. This option includes 124 servings for three main meals, plus drinks, fruit, and dessert—priced at just under $100 at the time of this writing. Examples of dishes include comfort food like pasta alfredo, tomato basil soup, and apple cinnamon cereal, plus freeze dried peaches and vanilla pudding.
The kit is a customer favorite, with an average 4.7 stars from more than 1,200 reviewers. "I now feel like I am ready for any situation that may come my way," says one satisfied customer. "The food is of great quality. I will most definitely order again!
2
Best With Survival Gear
Emergency Food Kit and Survival Tools
Augason Farms
homedepot.com
$82.62
Key Specs
Number of Servings: 42
Shelf Life: Up to 25 years
Weight: 6.8 pounds
Dimensions: 10 x 10 x 13.3 inches
This kit from top-quality brand Augason Farms provides one person with emergency food for three days, plus it includes eight essential survival tools. There are 42 servings for three meals a day, including oatmeal, two kinds of soups, chicken-flavored rice, along with banana chips for snacking.
On the gear side, there's a 7-in-1 survival tool and multifunctional camping tool, along with a 53-piece first aid kit and water filtration bottle. There's also a two-quart kettle, portable folding stove, fuel disk, and waterproof matches. Everything is packed into a watertight pail with a handle, and the complete package weighs less than 7 pounds.
"We are more than pleased with all of the things that this little bucket contained!" says one satisfied customer.
3
Best for the Long Haul
Long Term Emergency Food Supply
ReadyWise
amazon.com
$348.55
Key Specs
Number of Servings: 240 (2 buckets)Â 
Shelf Life: Up to 25 years 
Weight: 20 pounds (each)Â 
Dimensions: 15 x 12 x 10 inches
This two-bucket kit gives you 240 servings, which equals approximately a 4-month supply for one adult or a 1-month supply for a family of six. The breakfasts and entrees are high in protein and low in sodium, and include mac and cheese, Southwest beans and rice, and chicken noodle soup, and for breakfast there are two cereal and two granola choices.
"Their products are high-rated, long shelf life, and taste great!" says one 5-star reviewer. "We are pleased with our buckets. They have been easy to store in the garage and we have no fear of the bins spoiling with the strong buckets."
4
Best Value for One Person
3-Day Emergency Food Kit
Mountain House
amazon.com
$79.99
Key Specs
Number of Servings: 18
Shelf Life: 30 years
Weight: 3.6 pounds
Dimensions: 13 x 10 x 9 inches 
This emergency food kit gets high marks from customers, with an average 4.7 stars from more than 370 reviewers. It comes from The Mountain House, another popular brand, and their meals are made without any artificial colors or flavors. 
This box contains 18 servings of hearty entrees plus granola with blueberries and milk, which is enough for one person to subsist on for three days. For lunch and dinner, there's biscuits and gravy, chicken and dumplings, beef stroganoff with noodles, and chicken fried rice. 
"These are the first dehydrated meals that I've purchased, and I was pleasantly surprised," says one recent 5-star reviewer. "I expected bland, and small portion sizes. These meals are definitely not bland, and were very satiating. I felt full for longer than I would if eating a home-cooked meal, which surprised me, but I was glad for it."
5
Just Fruits and Veggies
Freeze-Dried Fruit & Vegetable Box Kit
ReadyWise
amazon.com
$139.99
Key Specs
Number of Servings: 120Â 
Shelf Life: Up to 20 years 
Weight: 6.9 pounds
Dimensions: 17.5 x 12.6 x 11.2 inches
If you're looking for extra fruit and veggies to add to your stockpile, this kit is the way to go. There's a total of 120 servings of freeze-dried strawberries, bananas, peas, broccoli, and corn to supplement meals with essential vitamins to pack in nutrients and antioxidants vital to your overall health. Most kits comes with main entrees and breakfasts, but few include a good amount of fruit and veggies as sides.
"My husband bought this for emergencies, but enjoyed the flavor so much he has been enjoying it regularly for breakfast or a snack during the day," says one happy customer.
6
Best Gluten-Free
Gluten-Free Emergency Food Kit
Legacy Premium Food Storage
amazon.com
$210.00
Key Specs
Number of Servings: 60Â 
Shelf Life: 25 years  
Weight: 16 pounds 
Dimensions: 12.7 x 11.8 x 14 inches 
For those who require a gluten-free diet, most companies offer a handful of options, but that's not so with Legacy, with a half-dozen options as part of their product lineup. 
This one offers 60 servings of lunches and dinners, and all of their food is certified 100 percent GMO-free. They're stored in mylar pouches with an oxygen absorber and nitrogen flush for extra freshness. 
Some of the meals you'll find in this kit include white bean chili, a cheese and broccoli bake, and enchilada, beans, and rice. There are also kits that include breakfast, but they were sold out at the time of this writing. 
"Excellent, will buy product again," says one 5-star reviewer. "Just what I was looking for in gluten-free emergency food for long term storage."
7
Best Organic
Survive2Thrive Organic Emergency Food Kit
EnerHealth Botanicals
amazon.com
$289.99
Key Specs
Number of Servings: 298
Shelf Life: 20 years 
Weight: 36 pounds 
Dimensions: 25 x 25 x 15 inches
For some, maintaining an organic diet is important even in the event of a disaster. There aren't many companies with options on the market specifically dedicated to providing food that's certified USDA 100 percent organic, but this in one of them. 
The Survive2Thrive emergency food kit contains individual vacuum-sealed packets of superfood—all vegetarian—made to last for 20 years, and each is individually nitrogen washed for freshness. Examples of ingredients include three varieties of legumes, rolled oats, quinoa, and millet, plus brown rice and pancake mix. 
"Feels secure to know I have a supply of organic vegetarian in case of emergencies," says one satisfied customer.
8
Best Soy-Free
Soy-Free Emergency Food Kit
NuManna
amazon.com
$269.75
Key Specs
Number of Servings: 144
Shelf Life: 25-plus years 
Weight: 20 Pounds
Dimensions: 12.5 x 14 x 13.5 inches
If you're allergic to soy, this emergency food kit is your absolutely best best, hands down. It's even more difficult to find a soy-free kit on the market than one that caters to gluten-free or organic diets, and the entrees in this kit from NuManna are also GMO- and MSG-free, and contain zero high fructose corn syrup or aspartame. 


There are 144 servings and selection is more inventive than some other options, including sweet habanero chili with pineapple, rice pilaf, and cheesy potato soup, plus oatmeal with brown sugar for breakfast. 
"Great variety and taste," says one 5-star reviewer. "This is an outstanding product," says another. "Everything you need in case of emergency and they put all the great kinds of food together!"
9
Best Vegan
5-Day Emergency Food Supply
Good To-Go
amazon.com
$99.95
Key Specs
Number of Servings: 15Â 
Shelf Life: Up to 5 years
Weight: 4.9 pounds
Dimensions: 12 x 12 x 6 inches
Based out of Kittery, Maine, Good To-Go creates high-quality meals from fresh ingredients made for outdoor adventures and emergency preparedness. They're gluten-free and low in sodium, and there's a vegan box available—another hard-to-find product in the marketplace.
Their lineup of entrees is bound to make your mouth water, with options including kale and white bean stew, herbed mushroom risotto, and a Mexican quinoa bowl, plus old fashioned oatmeal for a hot breakfast. 
The only drawback to having an emergency food kit with meals made with zero preservatives is that the shelf life isn't nearly as long as other options, at up to five years. But considering the delicious taste, you won't mind cooking it up for easy-to-prepare weeknight dinners well before the expiration date. 
"I enjoy tasty, high-quality food," said one 5-star reviewer. "That being said, I wasn't expecting much from a meal in a pouch. I was absolutely delighted to be wrong. These meals are excellent."
10
Most Portable
Adventure Bag Emergency Food Kit
ReadyWise
amazon.com
$75.99
Key Specs
Number of Servings: 41
Shelf Life: Up to 15 years 
Weight: 7 pounds 
Dimensions: 15 x 10 x 10Â 
This emergency food kit is technically for outdoor adventure camping, but we're including it for its portability and waterproof case. 
The three-day supply comes with 41 servings of breakfast, lunch, dinner, and snacks—including cookie dough bites—several with wilderness-appropriate names like "Trailhead Noodles and Beef" and "Appalachian Apple Cinnamon Cereal." 
The downside is that it's shelf life maxes out at 15 years, but we think it's well-worth buying for convenience in the event you have to evacuate your home with emergency supplies in the car.
This content is created and maintained by a third party, and imported onto this page to help users provide their email addresses. You may be able to find more information about this and similar content at piano.io
Source: https://www.popularmechanics.com/home/g37578091/best-emergency-food-kits/